In addition to the main funding instrument, the German Pfandbrief, pbb Deutsche Pfandbriefbank is a frequent issuer of both unsecured and subordinated notes. They are used to refinancee the non-Pfandbrief-eligible loan portions as well as the over-collateralisation of the cover pools. We offer these notes both in form of liquid, listed Benchmark issuances and as private placements.

When arranging private placements we can meet the investors' individual demands and ideas regarding maturity, currency and structure. Private placements are issued in form of promissory notes as well as registered and bearer bonds.

Given pbbs´good capital ratios and high stock of "Senior non-Preferred" currently we are focusing on BBB+ rated "Senior Preferred" issuances.

Ambition Level for Own Funds and Eligible Liabilities of more than 8% TLOF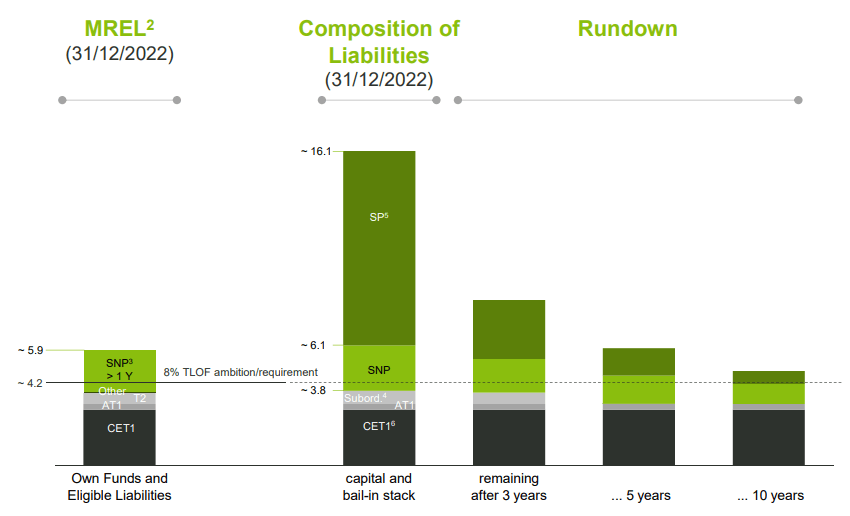 (in € bn as of 31/03/2022)
1 After confirmation of the 2022 financial statements, less the proposed dividend
2 pbb has set its ambition level at 8% TLOF with 100% subordination (i.e. Own Funds and Senior Non-Preferred), which is the currently binding regulatory target. As of 31 December 2022, MREL eligible items amounted to ~ 11.3% TLOF (without approved scope from the General Prior Permissions)/~ 34.8% RWA/~ 11.1% Leverage Exposure
3 MREL-eligible Senior Non-Preferred Debt > 1Y according to legal maturities; without prior approval volumes for early termination of investments
4 Nominal amount of Tier 2 instruments; the capital stack includes € 300 mn AT1 issuance callable in 2023
5 Senior Preferred, structured unsecured and corporate deposits (excl. protected deposits)
6 CET1 assumed to be constant